Updated: as of December 22, 2021
We have an upcoming trip to Paris on December 27, 2021. The recent Omicron variant led to the cancellation of NYE fireworks in Paris, but we will still enjoy the culture, food, and drinks through Paris and Reims, France. While preparing for our flight and researching the current entry requirements, restrictions, and Covid-19 testing options – I concluded that international travel is currently a logistical nightmare complicated. France is no exception, entry back to the USA is no exception, and our transit to Germany is tough to figure out. I did the research to hopefully save you time if you are planning on visiting France in the near future.
Here is the Cliff Notes version of what to expect for those might be considering a trip:
A negative Covid-19 test result (PCR or antigen) is required less than 48 hours of departure, regardless of vaccine status
Proof of vaccination & a sworn statement attesting to no Covid-19 symptoms or contact with confirmed case
Obtain a Health Pass "pass sanitaire" to enter indoor establishments (museums, restaurants, cafes, etc…)
French Travel Restrictions
As of June 9, 2021, France is adopted a traffic light approach (green, amber, red, & scarlet red) to classifying countries health situation, with the exception of the UK, who has its own special restrictions due to the latest Omicron variant. The United States is currently an "amber" colored country. For purposes of this post, I will focus on the restrictions visitors from amber countries will face upon entry to France. All data is pulled from the French government website, that can be accessed here.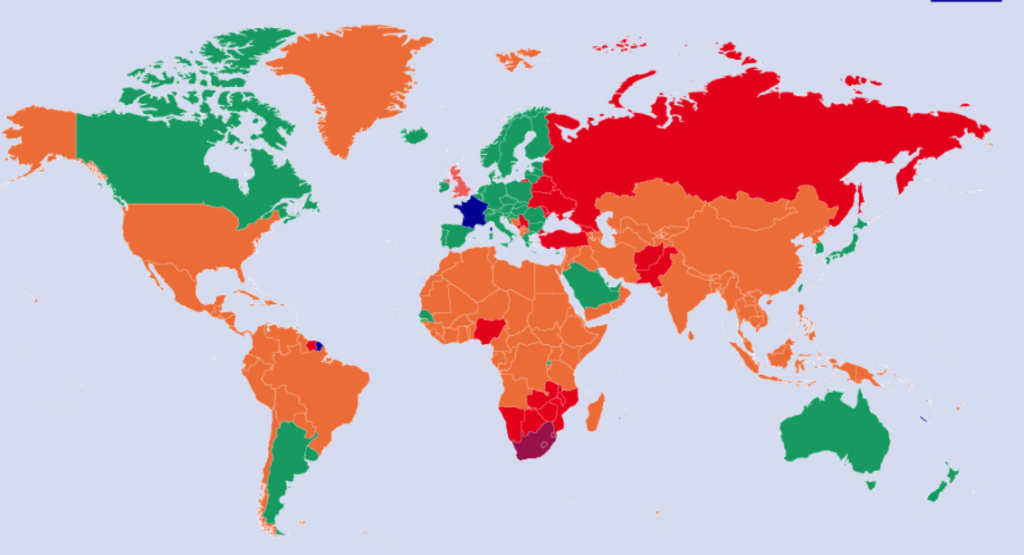 France's approach to entry for non-EU visitors depends on the traveler's vaccination status and age. Children under 12 years of age are exempt. If fully vaccinated, you must provide proof of vaccination status (CDC card), a sworn statement certifying no Covid-19 symptoms and no contact with a confirmed case within the last 14 days (they provide, you sign the form), and results of a negative PCR or Antigen screening test taken less than 48 hours prior to departure (of your first flight if you're connecting). If unvaccinated, in addition to the above you'll be subject to provide a travel certificate verifying a compelling reason for your trip (tourism doesn't count), an additional test upon arrival, a 7-day self quarantine, and an additional test at the end of quarantine.
What is the Health Pass ("pass sanitaire")?
Basically, the health pass is converting your proof of vaccination (CDC card) into a digital or paper QR Code. It is issued to non-EU nationals while visiting France to standardize the proof of vaccination status to access events and places where it is mandatory. To obtain a health pass, you need to present the following documents:
A passport
The original vaccination certificate in paper format
The documents must include your last name, first name, date of birth as well as date of vaccination, type of vaccination, the batch number (if possible), the number of dose injected, and the country of vaccination.
Where do you get a health pass? Up until October 2021, France let you submit documentation online and they would issue it to you electronically. That process failed and you must now get your health pass in person at local pharmacies. Here is a link to a resource to find a pharmacy. There are over 1,200 in metro Paris, but if you're visiting another city in France – good luck to you : )
Furthermore, obtaining a health pass costs money. The amount cannot exceed 36 euro (incl. VAT). Once the pharmacy issues the pass, you download France's 'TousAntiCovid' app on your phone and import your QR code for the duration of your visit.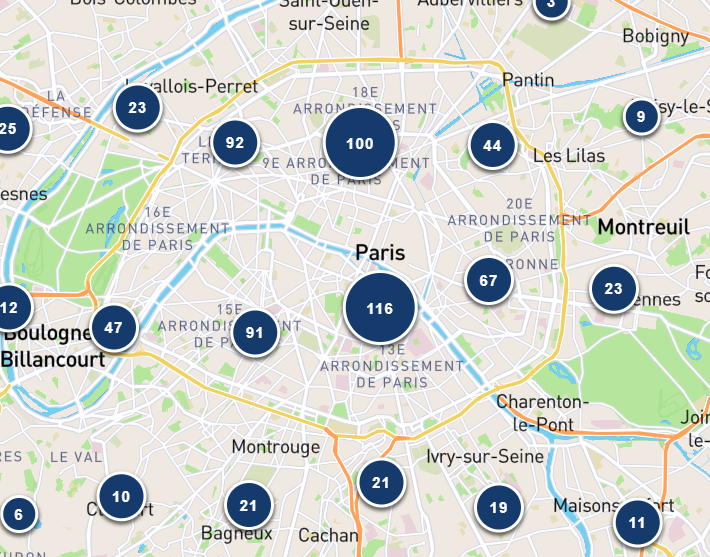 Our return journey to USA via Frankfurt, Germany
After spending New Years Eve night at a hotel on the Champs Elysees, we will begin our journey back to USA. However, since I wanted to take advantage of Singapore Airlines Frankfurt to New York JFK route, we need to transit from France to Germany.
On January 1, 2022, we plan to take the intercity express (high speed ICE train) from Paris Gare de l'Est to Frankfurt Main. Since that crosses the France/Germany boarder, current German restrictions require proof of vaccination to ride. To make things more complicated, Germany requires a Digital Entry Declaration prior to travel to determine if you've been in a "high risk zone".
As of today, France is a high risk area and a negative test is required upon entry. A quarantine is not required if vaccinated.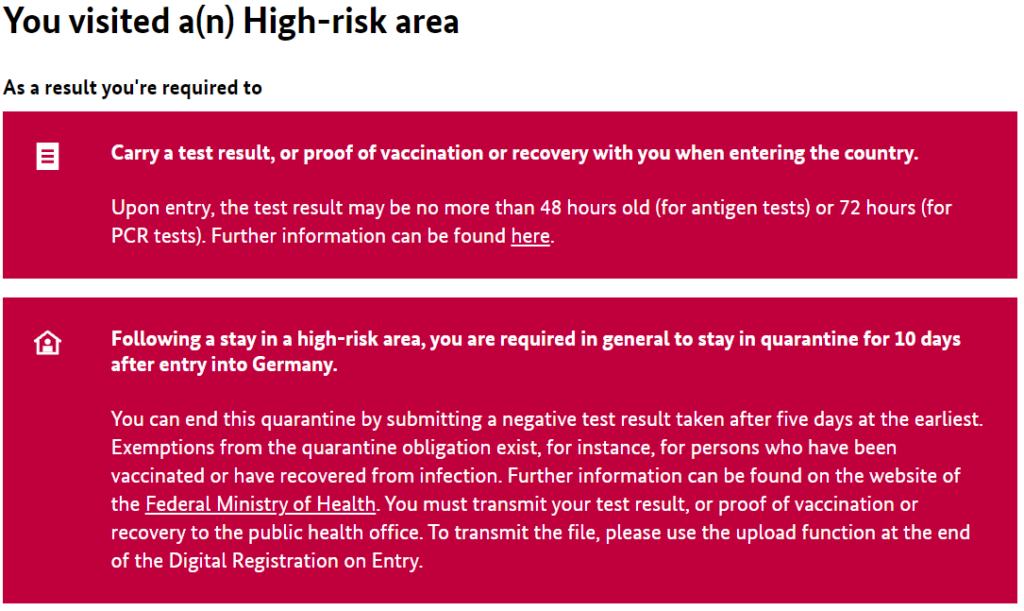 Since we will also need a negative test taken within 24 hours of boarding our flight back to the United States at 8:20am on January 2, 2022, we can use 1 test to cover our train to Germany and flight to USA. We ordered the Abbott BinaxNow with eMed telehealth Ag card Covid-19 tests earlier this month and will pack them in our suitcases.
Our plan will be to take the tests on the morning of January 1, 2022 (after 8:20am) and fingers crossed we are negative and cleared to travel. Wish us luck for the adventure ahead!