October 23, 2021 marked the inaugural Ironman Waco. It was the first time the city played host to a full distance (140.6 mile) triathlon after hosting numerous 70.3 distance races in the past. The race brought everything Texas has to offer – heat, wind, country chip and seal roads, and fantastic crowds. It was a special weekend for me because it would be my first attempt at completing a full distance triathlon – Ironman. In this race/travel report, I'll break down the travel logistics and an in depth look at my race strategy, execution, and thoughts on the race.
Traveling to Waco
Waco, TX is located in central Texas and approximately 100 miles north of Austin, TX and 95 miles south of Dallas, TX. Waco has a small regional airport (code: "ACT") that offers American Eagle (affiliate of American Airlines) connections to Dallas-Fort Worth (DFW). In 2021, those flights operated every couple of hours. Otherwise, ACT is mostly used for private aviation. If you're coming to this race, you will be better off flying into a major airport (Austin or Dallas) and renting a car to drive the 2 hours to Waco.
We chose to fly from DC to Dallas Love Field (DAL) on a nonstop flight offered by Southwest Airlines. We took advantage of a summer promotion, where they offered 50% off travel for a 50-day period to celebrate their 50th anniversary. Southwest is notorious for random promotions like this. It worked in our favor and we snagged two round trip tickets for $364.76 or $182.38 per person. In my opinion, anything under $200 round trip in current times is a good deal and one I am willing to pay cash for vs. using points.
Note: If flying with your bike, Southwest charges $75 each way for bike cases. For this race, I used the TriBike Transport service and did not need to worry about flying with my bike.
With it being a Saturday race, we flew in Wednesday evening after work and instead of driving to Waco that night, we chose to stay at the Aloft Dallas Love Field. It offered free shuttle service, was fairly new (opened in 2020), and had an In-and-Out Burger restaurant a 5 minute walk away. It was perfect for a quick night stay before driving to Waco the next morning.
Waco: Lodging
As most triathletes do, I started searching for lodging as soon as I signed up for the race. I secured a hotel room at a downtown location as my "last resort". After my parents committed to traveling to spectate and support me for this race, it made economic sense to find a 2-3 bedroom Airbnb. A new listing appeared in July (3 months before the race) for a 3-bedroom, loft style condo that would be 4 blocks from the finish line. Perfect! If you are doing the Waco race in the future, book. this. Airbnb! It was absolutely perfect and about the cost per night what two hotel rooms would've been. The closest hotels to the Ironman Village, transition, and finish line are the Courtyard by Marriott Waco-Downtown and the Hilton Waco.
Check In and Race Day
There is no check in the day before the race, so I checked in Thursday afternoon after arriving to Waco and also picked my bike up from TriBike Transport. On Friday morning, I road my bike to ensure everything was working, did a quick run and swim in the Brazos River to feel the water. On Friday afternoon, I checked my bike and gear bags into transition. This is standard and it makes race day morning pretty simple.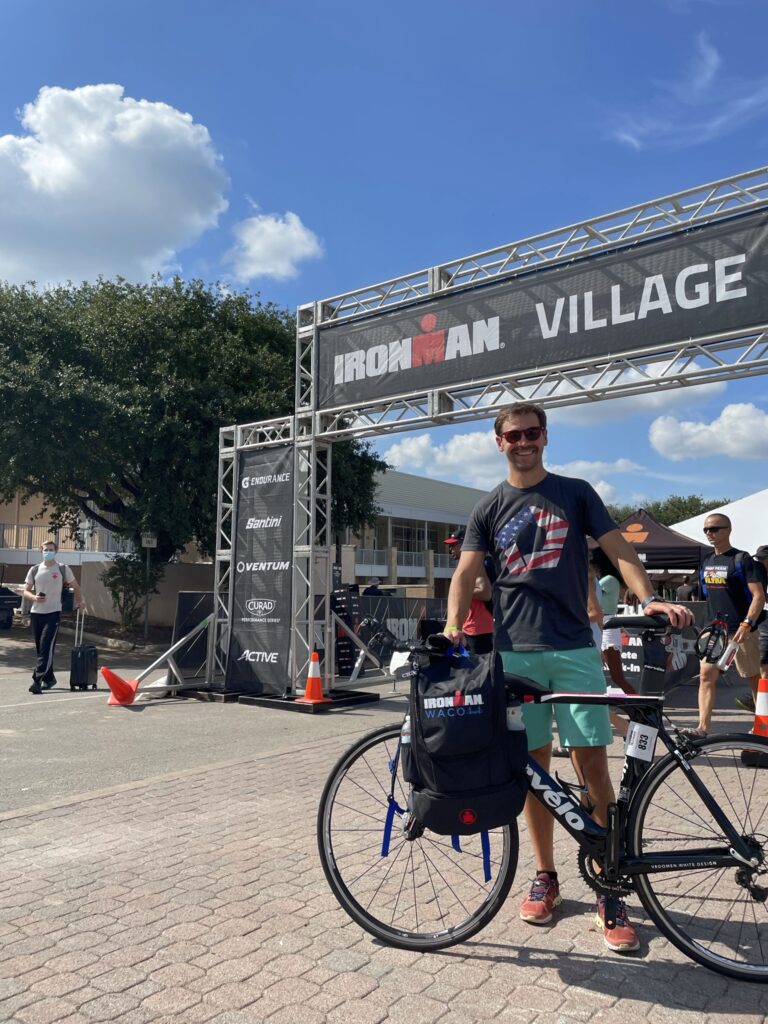 My alarm went off at 4:30am and I ate my standard oatmeal, banana, peanut butter, coffee, and carbohydrate drink to allow for 3 hours of digestion before the start. I arrived at transition at 5:55am, put my nutrition on my bike and pumped up my tires. The race provided bike pumps in the transition area. Transition area closed at 6:15am and the athletes made the 1 mile walk up river to the start line. The race started promptly at 7:25am, just as first light broke the sky. Morning temperature was 68 degrees F (signaling for warm day ahead).
SWIM
The swim takes place in the Brazos River that runs through Waco. The 2.4 mile course starts by taking you ~500m "up river" before two right turns take you "down river" the rest of the distance. I use quotes for up and down river because there was no noticeable current. With the wind coming out of the SSE on race day, it negated any helping current that exists, as we swam into the wind most of the way.
Water temperature on race day was 71.2 degrees and wetsuit legal. I wore a sleeveless wetsuit and was comfortable. The race was a self-seeding rolling start. I seeded myself with the 1:10-1:20 est. finish time. My goal pace of 1:45/100yd or ~1:15 hours for the swim. As expected, adrenaline and the wind at my back, my first 500 yards was at a 1:39 pace – too fast. After the first turn (700 yards up river), I moved further outside from the cluster of swimmers near the bogeys and found smooth, calm water. I settled into a controlled pace of 1:48/100 the rest of the way and it felt easy for me. While I could've pushed the last 1,500 yards, I held back knowing it was a long day ahead of me and the extra 3-5 minutes I'd gain was not worth the squeeze. I exited the water with a swim time of 1:17:25 which was 19th in my age group ("AG") and 151st overall.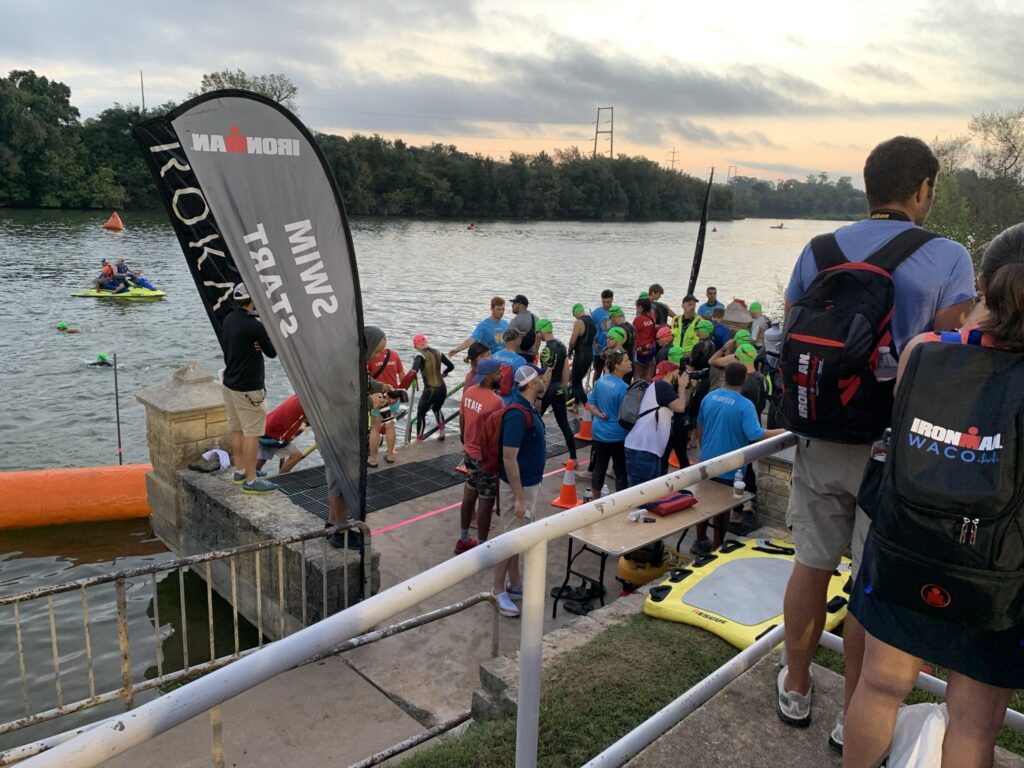 BIKE
After moving through a long (nearly 0.5 mile) T1 in 7:11, it was onto the bike for a 2 loop, 112 mile bike course. This is my weakest sport of the three and one I knew would be crucial for making smart decisions. Here were my target goals for the bike:
Heart rate: 142-145 bpm (low zone 2 – based on a threshold of 176bpm)
Power: 136-140 watts (low zone 2, 60% FTP)
Cadence: 89-90
Nutrition: 284 calories, 24 oz, 900mg sodium per hour
The first 56 miles of the bike I was being passed by hundreds of riders. I felt like a slug compared to some of these other riders, but remained focused on my heart rate and power. My heart rate kept elevating into 150+ and I'd have to back off. Between miles 35-40, I noticed about 3 dozen riders with flat tires on the side of the road and they were either changing their tubes or waiting on course support. I later found out, some asshole placed nails/tacks on the road and it didn't appear to be incidental. Bummer that someone would do this. I got lucky and avoided them or my Gatorskin tires saved my day? The first half of the ride I had an average power of 126w/net power of 137w, average HR of 151, and speed was 16.6mph. Average temperature was 80 degrees the first 3 hours of the ride.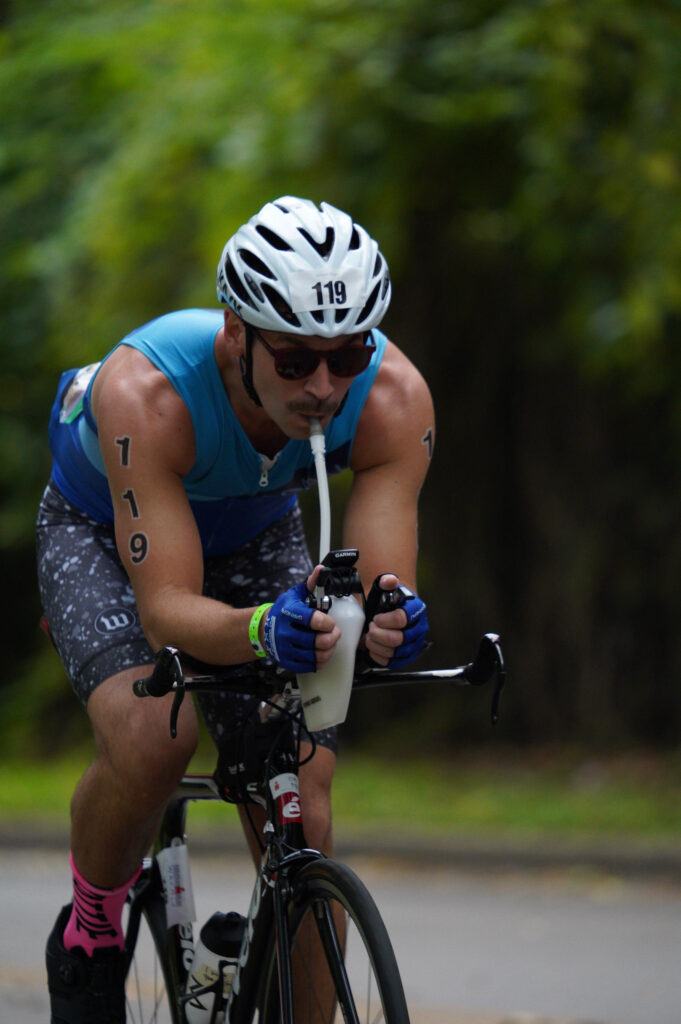 As the sun was heating up the central Texas roads, I know the second loop was going to be a challenge. I stopped at mile 56, retrieved my bike special needs bag with 3 new bottles and additional food, then got back out on the road. The final 56 miles took me 3:30 hours with an average power of 117w/net power of 127w, average HR of 149, and speed was 15.7. Temperature was 92 degrees the final loop – HOT!
The wind played a big factor into the bike this day. We had constant SSE winds at 18-21 mph. It felt like it was always a headwind, but it wasn't. Even with crosswinds, there were times I was head down in aero position and going 10mph just trying to not get blown sideways off my bike.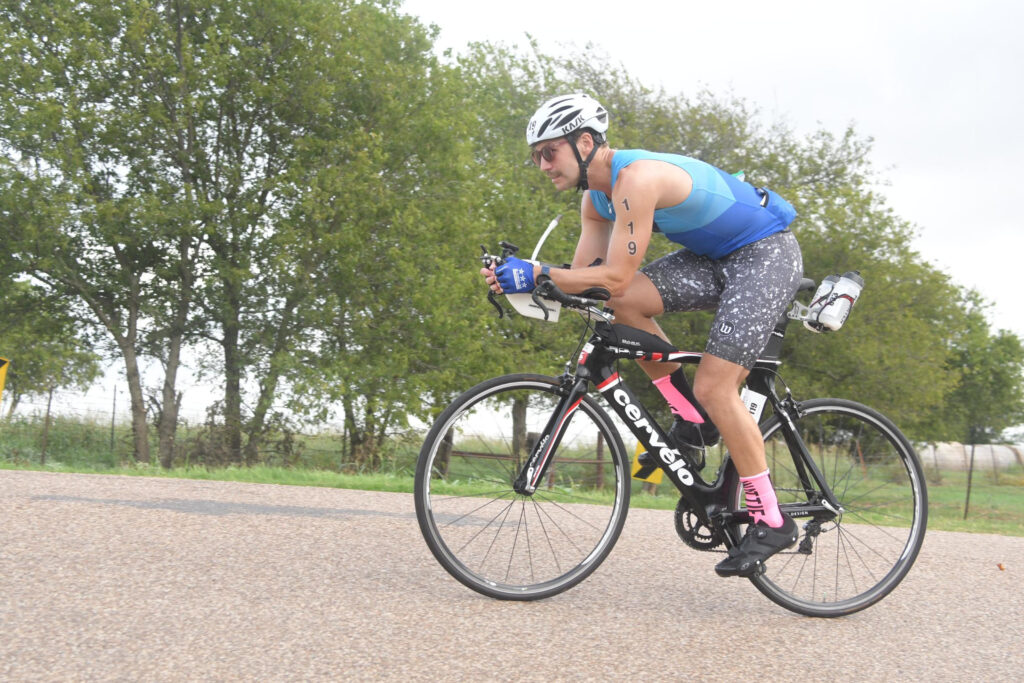 Overall, I was happy with the ride and with a final time of 6:54 it was probably only 30-45 minutes longer than I'd do in "perfect" conditions. I'm happy I decided to scaled back the power to keep the heart rate in check given the heat and I focused on hydration and eating. When all was said and done, I have no cramping, no mechanical issues, drank my six 22oz bottles + four 24oz bottles on course (228 oz of fluid). I came buzzing into T2 with a low heart rate and relatively fresh legs ready for the marathon run in front of me.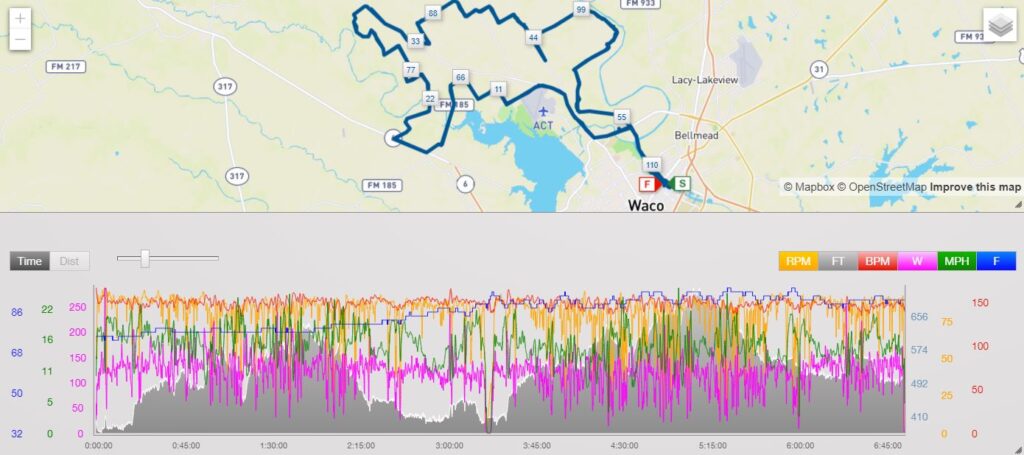 RUN
My T2 transition took 9 minutes. I changed shirts, used the Porto, reapply chaffing cream and AMP Human lotion (sodium bicarb). It was a leisure transition 🙂 I set out for the 3 loop, marathon course with the following plan:
Run/Walk Strategy: 4:30 run/:30 walk
Heart Rate: 156-157 (high zone 2, based on 179 threshold HR)
Play it safe, Send it the last 10k if energy is there
My marathon started at 4pm and it was still nearly 90 degrees out. I wore a hat so I could fill it with ice at each aid station to try and keep the core temperature cool. The Waco run course takes you up and down the river with loops through Cameron Park. Cameron Park has two long, steep climbs. My strategy, along with the majority of the field, was the walk these hills. Not worth burning a match on these.
I stuck to my 4:30 run/:30 walk the first 20 miles and averaged 11:42/mile and HR was 152 over that 3:53 hour segment. Leaving Cameron Park for the last time, I had 6 miles remaining, my legs felt good, my brain was starting to wake up from the cola/caffeine I started taking at mile 10, and I was ready to push the last 10k. Over the last 10k, I took my heart rate to mid-160s during my run intervals and averaged 10:13/mile. My coach alerted me, this plan isn't sexy, but it will prevent bonking and walking the last half of the marathon. Man was she right. The last hour I passed nearly 50 people that were going to be walking it into the finish. I was buzzing past them. My final kick lasted 1.5 miles and I did 8:24/mile pace to end the marathon feeling absolutely drained and relived it was over.
As you can see from my run data file below, my HR (red line) was kept in check most of the marathon by using the run/walk strategy. The last hour is slowly crept up as I pushed the pace. Overall, a well executed marathon for me.
The Ironman Finishers Chute is a feeling I will never forget. For the runners around me at the time, we talked about letting each other go ahead so they can enjoy the last 150 meters by themselves and soak it all in. I did just that and it was a feeling I will never forget.
"Brett Werblow, from Alexandria, VA and representing the DC Tri Club, You Are An Ironman!"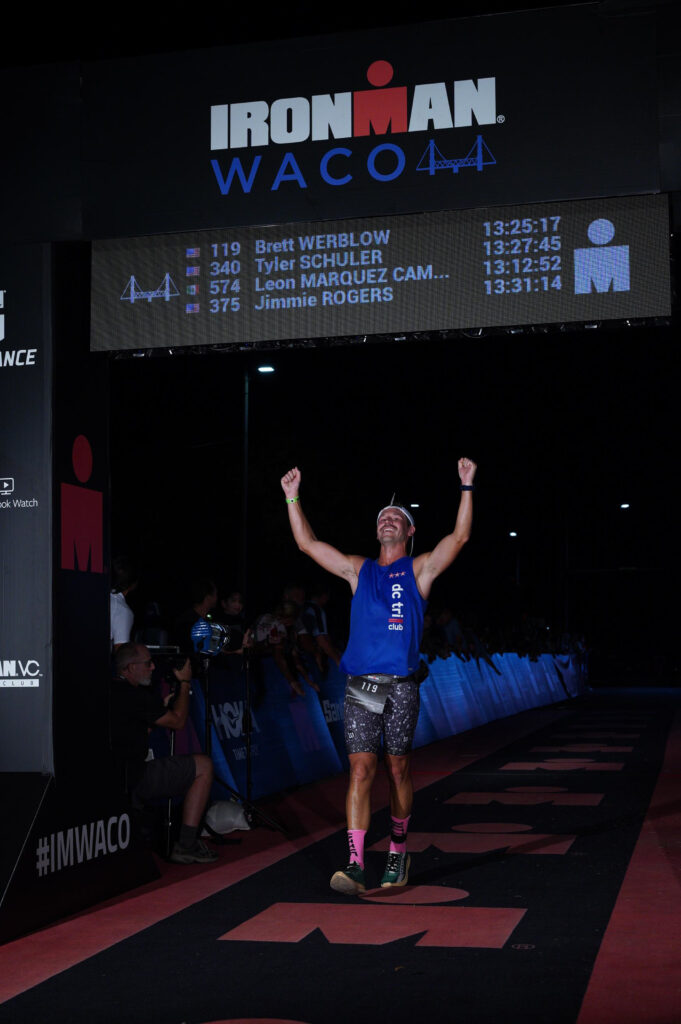 Finish time: 13:25:14
27/70 M30-34 AG (81 started)
229/644 Overall Finishers (~900 started the race)
Waco ended up offering 4 slots to the 2022 World Championships in Kona to my AG and 7 slots to the 2021 (May 2022) World Championships in St. George, UT.
Why do I do this?
Ending thoughts. Leading up to the race, many friends, co-workers, and family asked "Why do you do this?" Around mile 70 of the bike, I asked the same question. 2 seconds after I finished the race, I got my answer. The dedication, consistency, structure, and commitment to pushing my body and mind to do something it wants to give up on. The feeling of self-accomplishment is cloud 9 for me.
Second question I get, "Will you do another one?" – Absolutely! For me, triathlon is a hobby and training is a mental escape from the daily challenges I cannot control in this world. 2020 and 2021 have been tough years. I was furloughed from work, considered if I needed to change careers, Krystle and I have been trying to start a family for a year and have gone through 2 heartbreaking miscarriages, a global pandemic with no end in sight, the constant political issues – triathlon is 100% in my control and I love it.
I'll take the rest of this year off from races #offseason and start to plan 2022 with my DC Based coach – Multisport in Motion – Alyssa Morrison. We will work towards Ironman 70.3 in Mallorca, Spain in May 2022 and then take on Ironman Wisconsin in September 2022.
Thanks y'all!