Overview: This is the first leg of our 16 day, around-the-world honeymoon that took us from Washington DC to Bali, Indonesia via Singapore before returning  on a flight from Singapore to Los Angeles and finally back to Washington DC. 
On this leg, we flew business class on Singapore Airlines to Bali Denpasar with a two-night stopover in Singapore. The flight was over 17 hours of total flying time with a quick stop in Frankfurt, Germany to refuel, swap out flight crews, and get new passengers.  I will cover the booking process, the 4 meals served on board, what to do during the stop in Frankfurt, and much more.  Enjoy!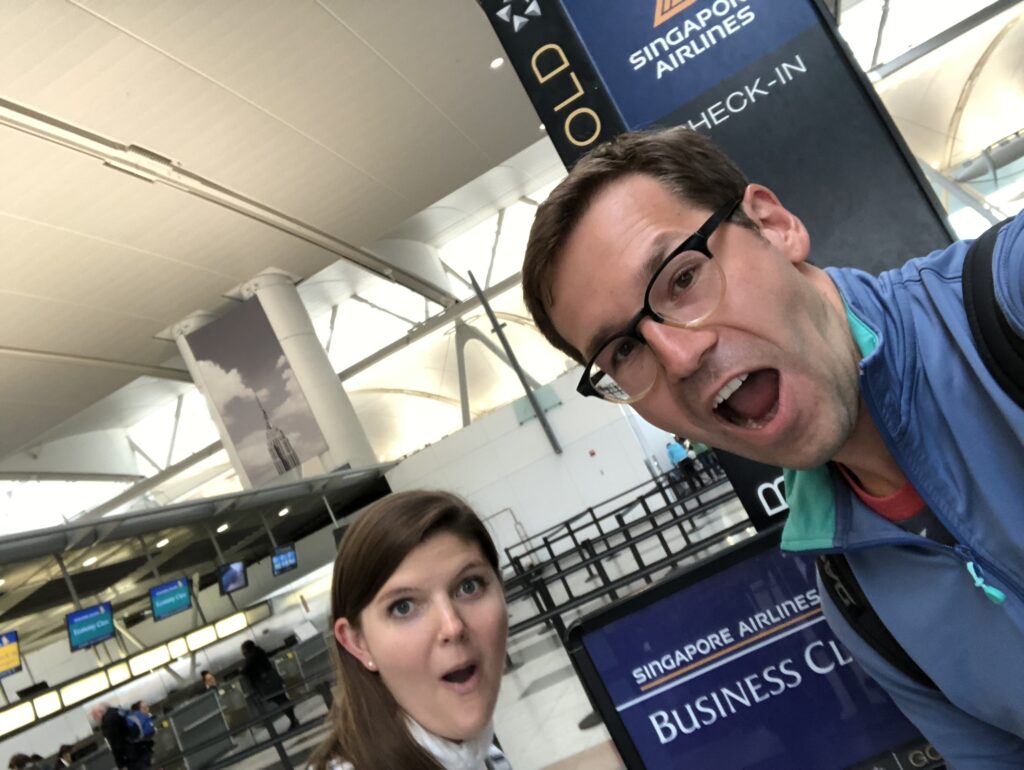 Flight Details:
Airline: Singapore Airlines (SQ)

Plane Type: Airbus 380-800 (REG 9V-SKM)

Flight # and Route: SQ25, JFK-SIN via FRA

Departure Date: April 29, 2019

Arrival Date: May 1, 2019

Seats: 14D & 14F

Booking Type: KrisFlyer Miles

Booking Cost: 92,000 miles + $49.16 taxes (per person)
Booking Singapore Airlines:
Many people ask, 92,000 points per person?! There is no way I'll have that many points…How did we accumulate this many points to book this flight? It was a combination of Chase Ultimate Rewards and American Express ("Amex") Membership Rewards. I transferred 50,000 points from Chase and 134,000 points from Amex for a total of 184,000 points in my Singapore KrisFlyer account, enough to cover the cost of a business class ticket for my wife and I.
The Earning. The Chase points were earned mostly from 3x restaurant and travel spending on my Chase Reserve credit card over the previous year and a half (50,000/3x bonus = ~$17,000 spending).
The Amex points were earned mostly from two sign up bonuses, Amex Platinum Card -> 60,000 points and the Amex Gold Card -> 50,000 points. The remainder of the points were from normal spending and special "Amex Offers" over the prior two years.
As you can see, to accumulate the 184,000 points need for this itinerary, I planned & saved points for almost two years in advance, but the spending on my credit cards was relatively minimal (~$20,000 over those two years).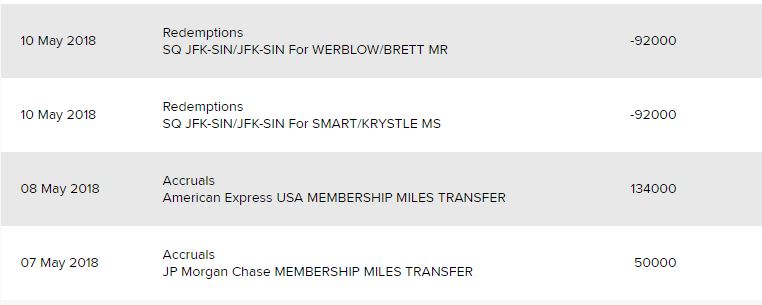 Booking Early.  Singapore Airlines opens their booking window 354 days before the departure.  Therefore, I booked these tickets on May 10, 2018 for a departure of April 29, 2019.  It takes about 24 hours for the points to transfer from Amex or Chase to Singapore, so I initiated the transfer a few days early to ensure the points were in my KrisFlyer account ahead of time.  Since I knew we wanted to leave for our honeymoon immediately after our wedding, so our flexibility on the departure was limited & the Monday flight is the one we were focused on.  Sure enough, as the booking window opened, I was able to confirm 2 business class seats at SQ's  "saver award" level (92,000 points for USA East Coast to Singapore).  
However, SQ changed the cost in 2019 and as of writing this (May 2020), the cost is now 99,000 miles for the same award ticket. 

Check In & Lounge @ JFK Terminal 4
We flew up to New York earlier in the day and spent some time in New York City.  We arrived back to JFK International Airport around 5:30pm stoked to get our boarding passes and check in one piece of baggage.  Tip: Singapore Airlines opens their check in counter at JFK 4 hours prior to departure time.  There was no wait when we arrived and agent verified our passports, printed our boarding passes, checked our bag, directed us towards security, and invited us to the Swiss Lounge that Singapore Airlines partnered with for their premium cabin passengers to enjoy pre-flight.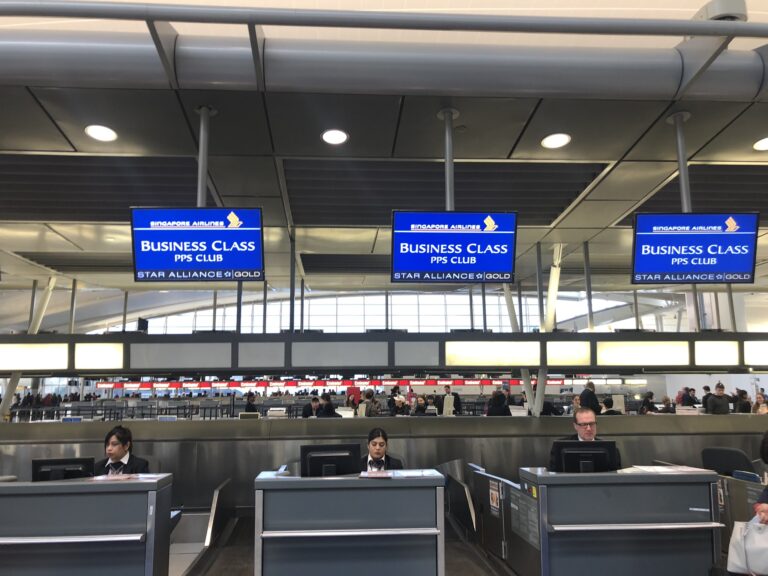 There was no wait on this Monday evening for TSA Precheck and we were quickly through.  As instructed by the check in agent, we found the Swiss Lounge located immediately on our right after security.  We showed our boarding passes and ID to the lounge check in and were welcomed with some brief instructions & layout.  It is certainly not the most luxurious lounge, but here is my overall opinion about any lounge – if it has free drinks, power outlets, and a chair…it'd rather be there than at the gate.  This lounge checked all those boxes and #bonus – it had two showers for use 🙂 Personally, I enjoy taking a hot shower before an evening long-haul flight especially after we spent all day outside in NYC.  Below are a few pictures of the self service bar, food options, and seating of the Swiss Lounge:
Around 8:25pm, we started the 5 minute walk from the lounge to our gate, A7.   As we approached the gate, it was 'organized' chaos.  For reference, this A380 aircraft holds up to 441 passengers! It certainly felt like 400 people fighting for their spot in line when we approached the gate.  Thankfully, there was a separate boarding line for Zones 1-2 (Suites, Business, and Premium Economy class) and before you know it, we were walking the jet bridge directly onto the upper deck of the airplane. 
A smiling, friendly flight attendant greeted us and showed us to our seats.  The cabin is set up in a 1-2-1 format and we chose the middle two seats in row 14, which are best for couples traveling together and still provides direct aisle access.  As we got settled in, the attendants introduced themselves to us and offered us some sparkling wine to sip on before take off (like we needed that after three hours in the lounge…).  At this time, they also confirmed our meal choices that we reserved ahead of time with Singapore Airlines 'Book the Cook' option.  It allows you to select your meal up to 24 hours before departure.  
For anyone that has flown out of JFK knows that 6pm-10pm is rush hour traffic for planes departing for Europe.  Although the taxiing time was long, it allowed for me to play around with the seat controls and inflight entertainment on the huge 15.4 inch LCD screen.  Once in the air, beverage and meal service started promptly.  Since the first segment of flight SQ25 is under 7 hours to Frankfurt, we wanted to get through dinner quickly so we could get some sleep. 
My dinner selection braised beef short rib and it was excellent.  I'm no food critic, but it was tender and flavorful.  I also indulged in various cheeses, fruit, breads, an appetizer of Assiette Campagnarde (a meat & cheese platter), and dessert of New York Cheesecake.  I washed it down with a couple glasses of Charles Heidsieck Brut Reserve (Champange, France) and 2015 Chateau Rahoul Graves (Bordeaux, France) before reclining the seat into a wide 34-inch lie-flat bed.  
I ended up getting a few hours of sleep before we woke up for the breakfast service.  It was a basic continental breakfast of fruit, breads & pastries, coffee, tea, and juices.  After that massive dinner, I was not hungry and just opted for some coffee to wake up.  
This flight is unique because its technically all one flight (SQ25), but you can book the first or second segment separate.  For example, you could book New York to Frankfurt or Frankfurt to Singapore.  When we landed in Frankfurt, we noticed this was most passengers final destination.  Since we were continuing onto Singapore, we did not have to go through Germany customs and instead deplaned and went directly into the terminal. 
Refueling in Frankfurt, Germany (FRA)
I'm not sure if this is considered a "layover",  but nonetheless we had roughly 2 hours to kill in FRA. We had access to the Lufthansa Business Lounge, so we made our way there after asking for directions.  The lounge access was not told to us by the flight crew, so make sure you take advantage of this!  The lounge was really nice and is absolutely massive.  It has plenty of showers, a self-service bar, plenty of food options (including large pretzels) and German beer on tap. Krystle and I each took a shower and then had some food and drinks before boarding the plane again for the rest of our journey to Singapore.  The next segment is 12 hours 15 minutes long — so I made sure I fueled up on beer and pretzels.
We boarded the same plane around 11:35am local time for a 12:30pm departure.  It was like deja vu as we boarded and went to our same seats, albeit freshly showered & full of beer and pretzels. The cabin crew was different on this segment, so they came to introduce themselves.  Our neighbor in seat 14A was the same and we conversed briefly.  She was an expat living in Singapore and gave us some tips and things to do during 2 night stopover in Singapore.  
Frankfurt to Singapore Segment
I must admit, at this point of the trip, I was not ready for a 12+ hour flight.  We left Washington DC 24 hours prior and still had this segment to go.  Traveling half way around the globe is an endurance journey and I was exhausted.  When doing long-haul flights, Krystle and I take the approach of trying to acclimate ourselves to the destination's time zone as soon as possible.  Singapore is 6 hours in front of Frankfurt, so at the time of departure we had to get our bodies thinking it was 6:30pm, cue the happy hour 🙂 
About an hour into the flight, I received my Book the Cook lunch of Bresse Chicken with morel polenta and veggies.  Again, it tasted like a meal in a restaurant and not an airplane 35k feet in the air.  Before dinner I was served a canape of Singapore Chicken and Lamb Satay, appetizer of Buffalo Mozzerella with Ham salad and after dinner I had a dessert of Woodruff  Ice Cream and Blackberry Cheesecake and cheeses. Of course, I washed these down with more Charles Heidsieck Brut Reserve…
Once I finished my meal, there was about 9 hours remaining and the local arrival time was 9:00pm.  I wondered around the massive aircraft to stretch my legs before putting on a movie and going to sleep.  There are two stair cases on the plane, one in the front and one in the back.  On this flight, I'd say the business class cabin was about 50% full.  Unfortunately, I was not able to sneak into the nose of the plane on the 1st floor to see the Suites Class (First)…next time. Below are some pictures of the business class cabin, front and rear staircases, and the economy class seats (3-4-3 configuration). 
Krystle and I both were able to sleep for over 6 hours on this segment (I told you we were exhausted) and woke up around 3:50am local time (2.5 hours before arrival) to our breakfast.  I selected the Bacon Egg Souffle and again, it was restaurant quality.  I was not hungry but felt like I had to take advantage of the food…so I ate it.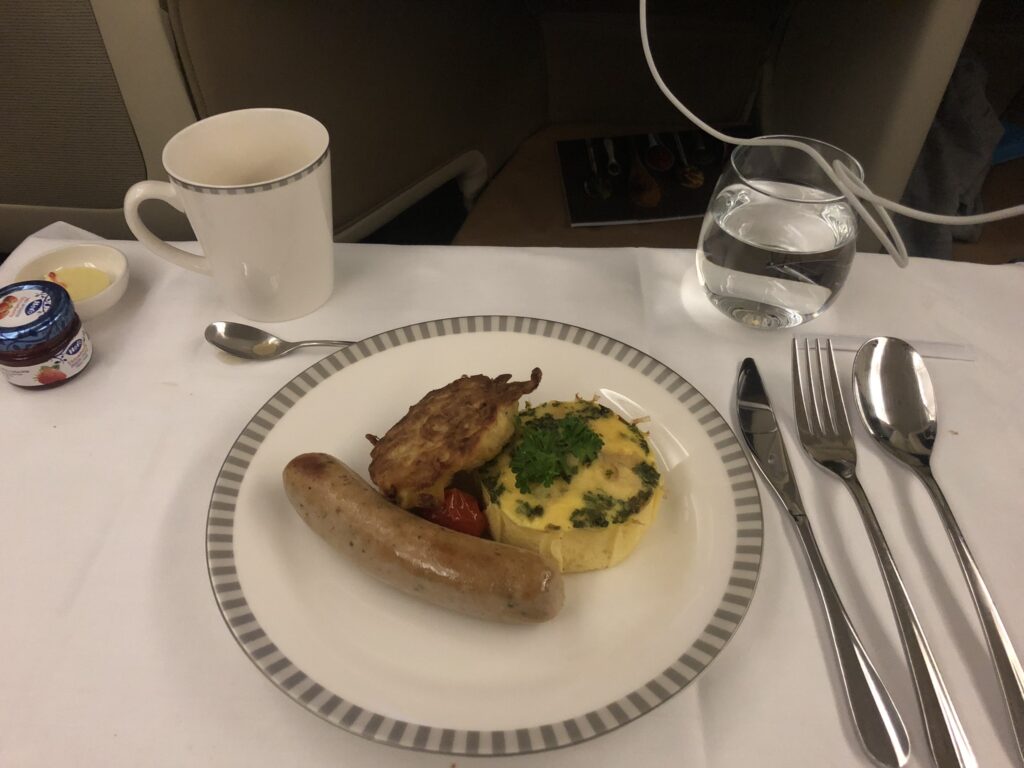 The ultimate excitement of landing in a new destination to kick off our honeymoon began to set in.  As the flight attendants prepared the cabin for arrival, my body had no clue what time it was, I was jacked up on espresso and adrenaline, and ready to experience Singapore with Krystle. The A380 touched down gently around 6:30am, Welcome to Singapore!  
To sum it up, we left our house in Washington DC at 9:00am on April 29, 2019 and arrived to our destination at 6:30am on May 1, 2019.  Almost 36 hours of travel, What.A.Journey.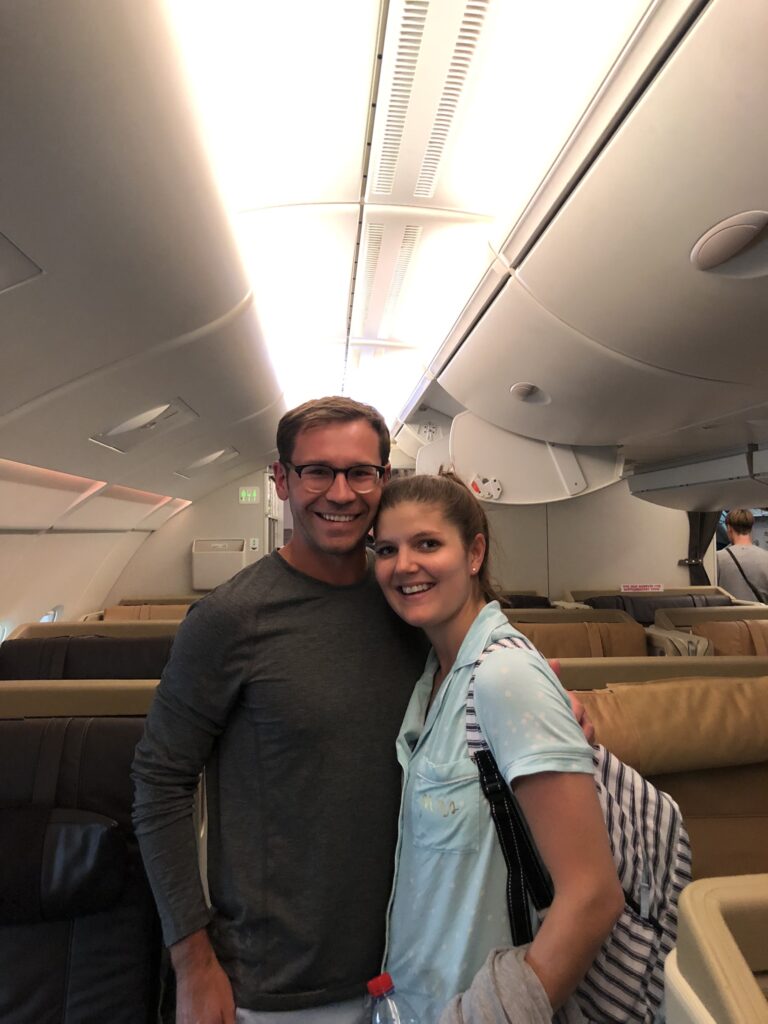 Singapore Stopover (one-way award ticket)
Since Bali, Indonesia is our final destination, our 2-night stop in Singapore was built in to our itinerary and only cost an additional $100 per ticket.  Singapore and Bali are considered to be in the same "zones" so it did not cost any additional KrisFlyer miles.  #travelhack 
I will cover the Singapore to Bali business class flight in a separate post. 
I do not know if I could manage to do this flight in economy class.  It was a long 36 hours of total travel and we were both beat when we arrived in Singapore.  If you're going to do this route, I highly recommend spending the extra points to be in business class or suites class (if available).  
Although this route does not have the new Singapore Airlines A380 business class, these seats are better than anything you will find on a USA based airline.  I found them to be super comfortable to sit in and sleep on.  The IFE and food was the best I've experienced and the service was best in class.  For any trip I take to SE Asia, I will plan on Singapore Airlines again.