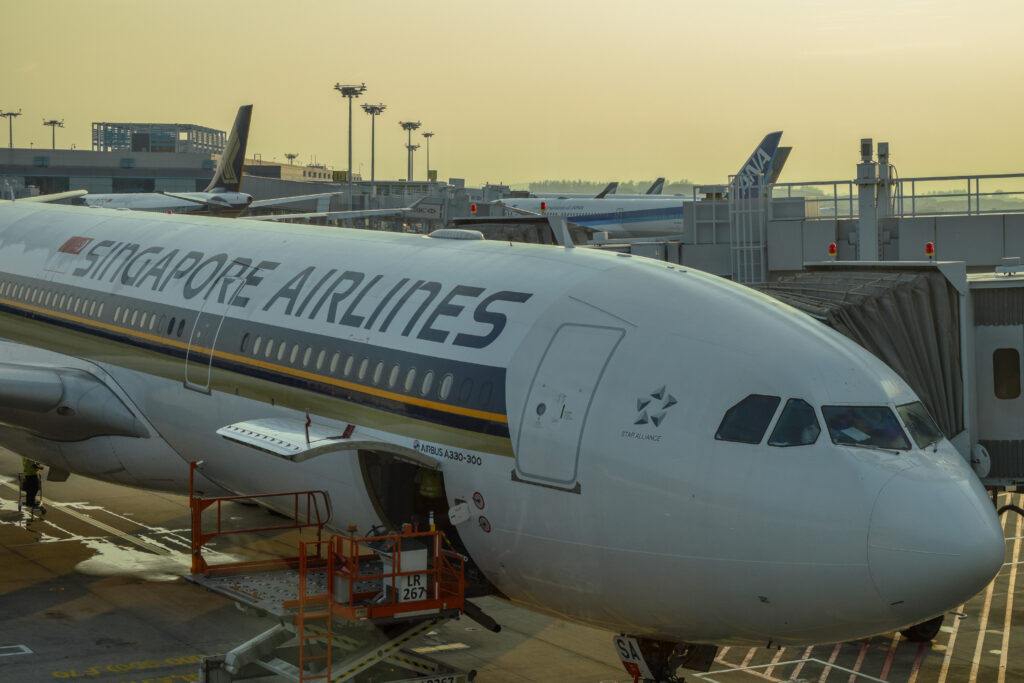 After spending two nights in Singapore at The Vagabond Club, Singapore – Tribute Portfolio Hotel, it was time to fly to the island of Bali, Indonesia.  This was the final segment of our Singapore Airlines itinerary that started with the JFK-SIN segment.  
Although I covered it briefly in my flight review, I want to remind you that we took advantage of Singapore Airline's  "stopover" rule.  It allowed us to spend two days in Singapore and then continue to our final destination (Bali) for only $100 per person.  Therefore, we did not need to book this flight on a separate ticket, it was just a continuation of our original itinerary.  If we booked this separate, it would be over $300+ per person.  #travelhack #frugaltraveling 
Flight Details:
Airline: Singapore Airlines (SQ)

Plane Type: Airbus 330-343

Flight # and Route: SQ938, SIN-DPS

Departure: May 3, 2019, 8:20am local time

Flight Time: 2 hours 19 minutes

Seats: Business Class15A & 15C 

Booking Type: KrisFlyer Miles

Booking Cost: $100 (stopover fee, one-way saver ticket)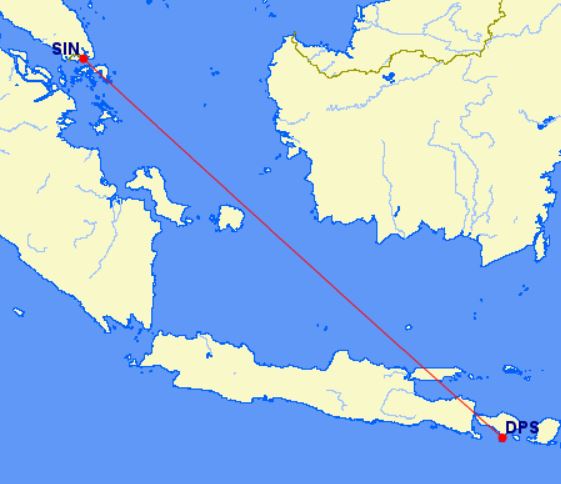 Check In at SIN - Terminal 2:
Getting from the hotel to the airport took about 20 minutes and since it was be early, we kindly had the hotel reserve a taxi for us. We arrived at the airport around 6:00am for our 8:20am departure.  This ended up being ample time for baggage drop, customs, etc… Singapore Airlines has self-tagging baggage drop in their "FAST Check-In" area.  It was so efficient (& awesome)! Check this out:
Best Airport In the World (IMO)…This airport is so large, clean & efficient. Krystle loved that there was every luxury fashion store under the sun here AND all open at 6am.  It operates 4 terminals and according to wikipedia, is the 17th busiest airport in the world.
Singapore Airport Hint:
One thing I found unique, there is no carry-on baggage check until you go to your gate to board the flight.  Therefore, to enter the terminal, you simply scan your boarding pass, do a brief departure immigration and you're there.  #mindblown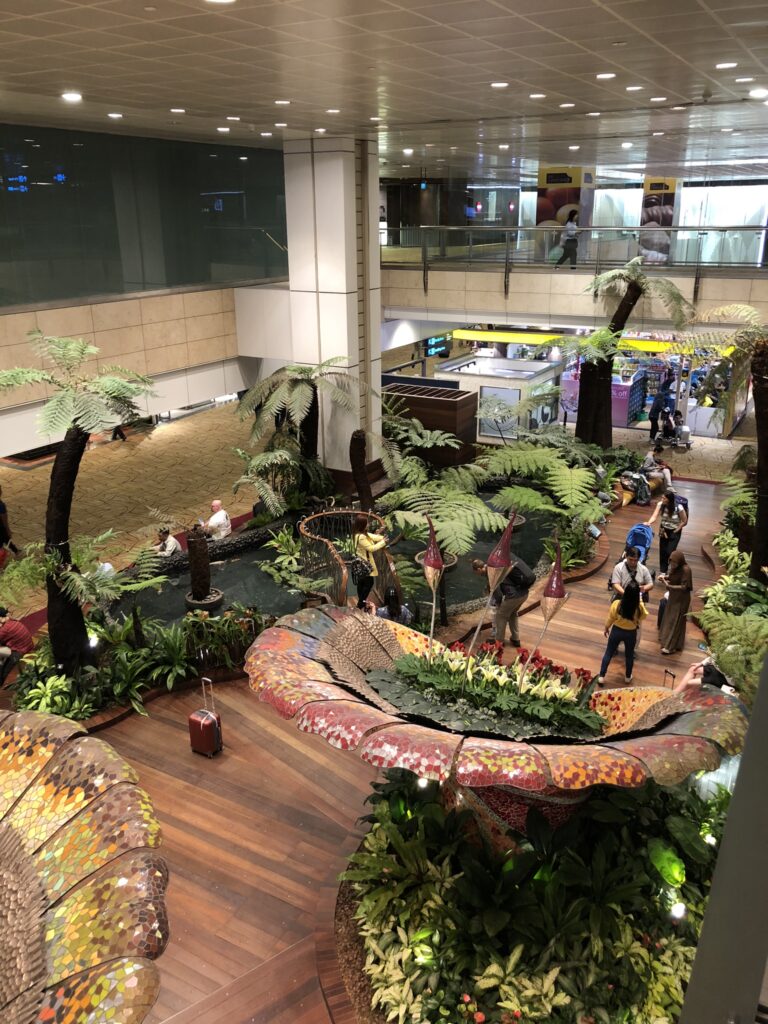 Since we were flying in business class, we had access to the SilverKris Lounge.  After you go through pass through immigration, all departure lounges are located on the second floor.  Make your way up the escalator and signage will lead you to your pre-flight oasis.  There was a full breakfast spread available, self-service bar and coffee station, and a plethora of seating options.  Since it was 6am, I opted to indulge in Champagne and Bao (steam buns), because why not
After some business travels gave me side eye when I was pouring the bubbles, I added some orange juice to the Champagne to keep it classy…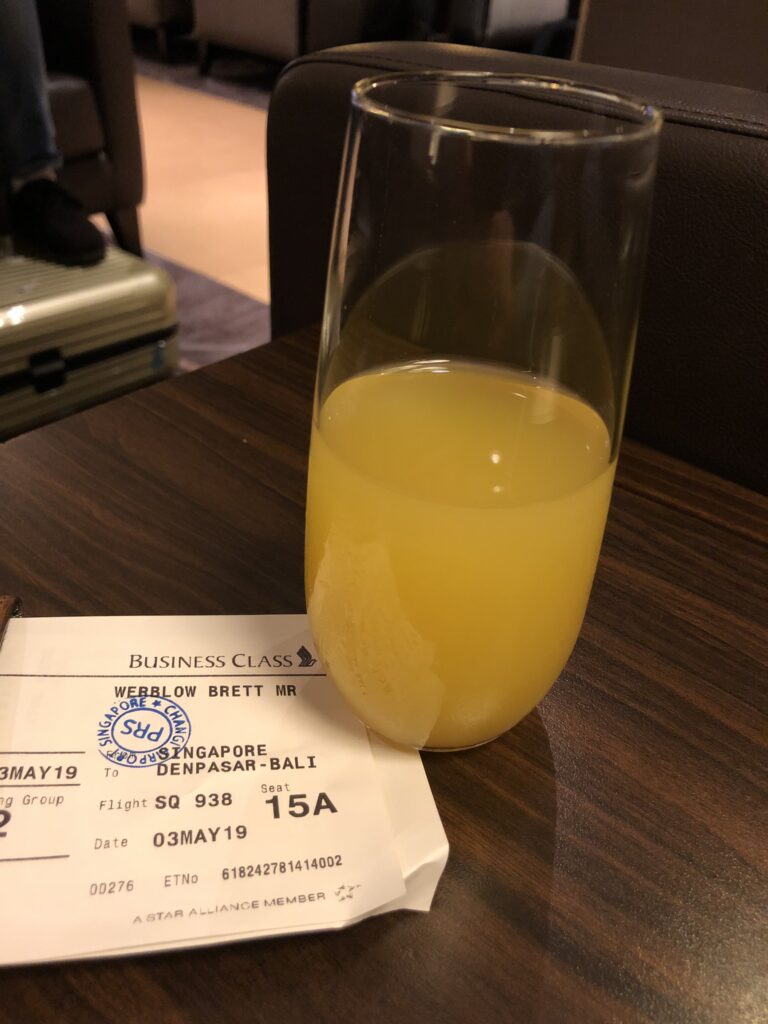 We spent about an hour in the lounge before we made our way to our departure gate,  F31.  I recommend going to you gate earlier than you normally would, since you go through security at this point (think of this as your TSA). However, there are no bathrooms after you are in the holding area…so don't drink a bunch of Champagne before hand…cough cough…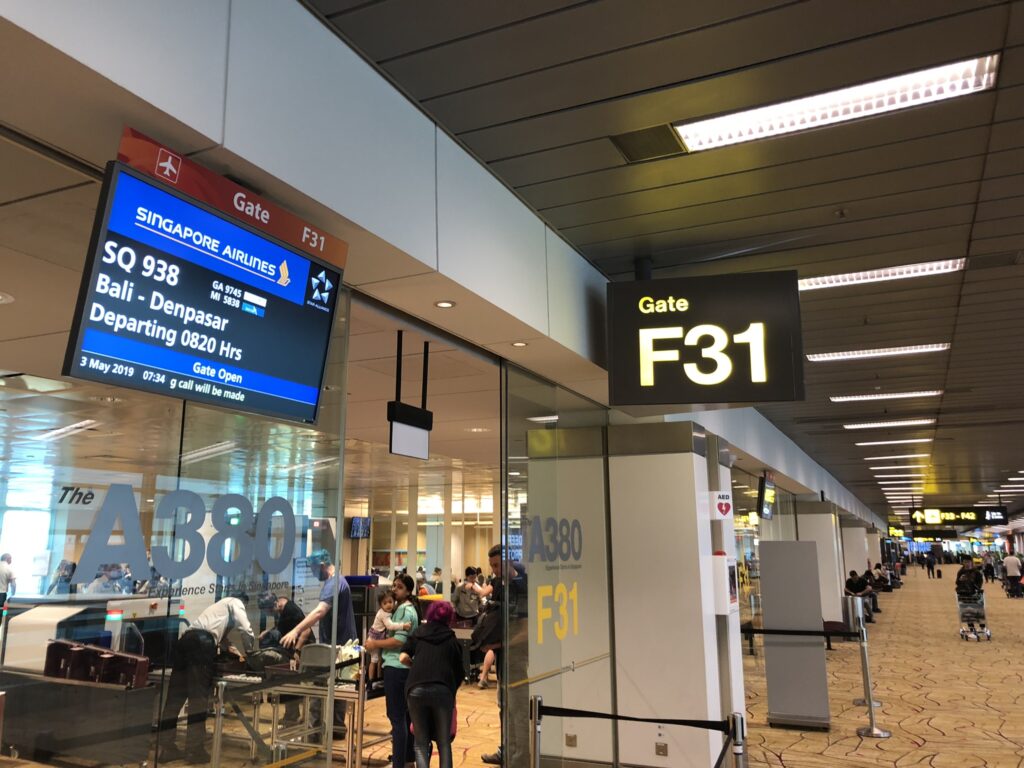 The flight from Singapore to Denpasar, the capital city of Bali, is only about 2.5 hours.  This is similar distance to a New York to Atlanta flight. There are multiple flights per day on this route and this flight was operated by the Airbus 330 aircraft.  It's a two-engine, wide-body aircraft with 2-2-2 seating in the front and 2-4-2 seating in the back.  You ask, Why a wide-body aircraft on a 2.5 hour flight? #cuzsingapore They just do things bigger and better than we have here in the States. 
We were one of the first to board the plane (mostly because I needed a bathroom…) and got settled into our seats, 15A & 15C, on the left side of the plane.  Here are some pictures of our plane and the business class cabin and seats:
The business class seats are not quite lie-flat, but an angled seat.  Like a big time angled seat.  These seats will stretch you out and was more than enough space on this short-range flight. 
After take off, the friendly team of flight attendants began their beverage service.  Any guess as to what I went for?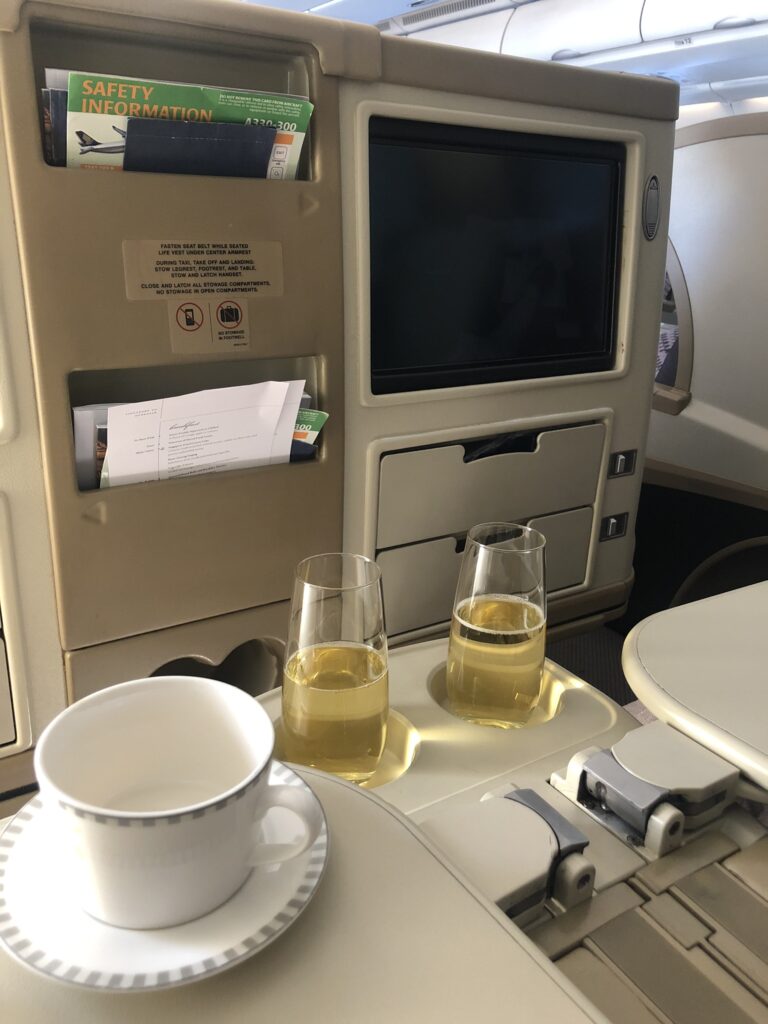 After spending two days in Singapore, I wanted to become a local.  Therefore, when I logged in to select my 'Book the Cook' meal for the flight, I chose the Assorted Dim Sum.  This is a good time to mention that I do not like seafood.  Nevertheless, this was the day I learned what Dim Sum was.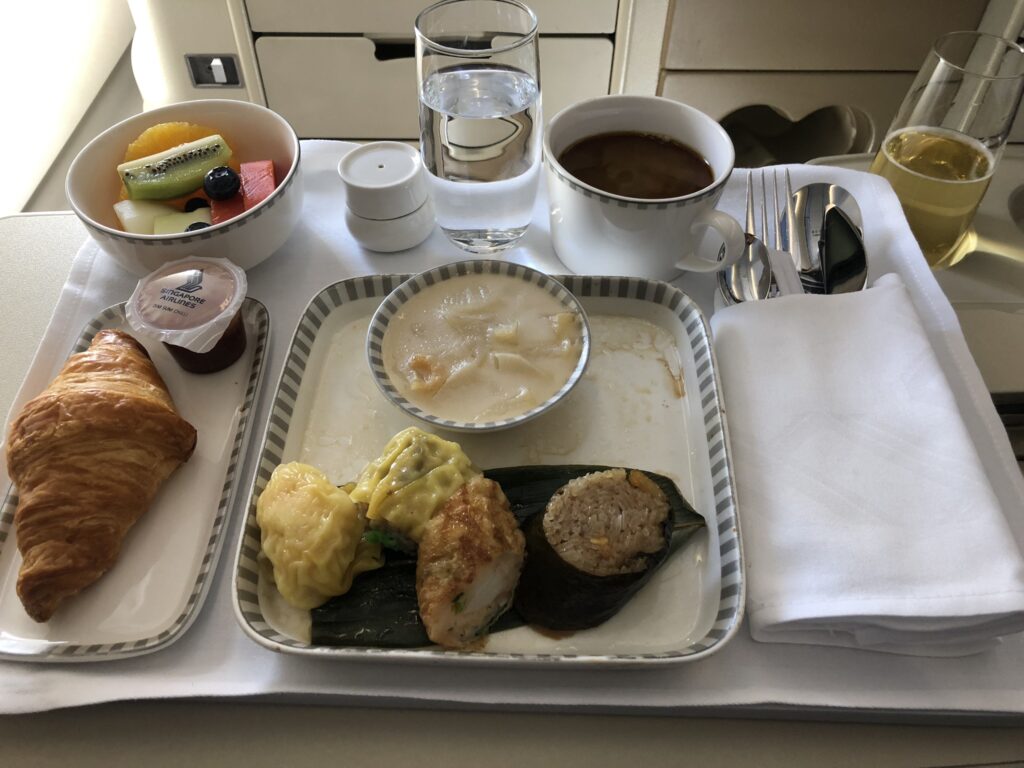 This dim sum was full of prawns and shrimp.  I took a risk and I failed.  I really tried to eat this, but I could not get over the strong seafood smell and taste.  I thoroughly enjoyed the croissant, fruit, coffee, and bubbles though. You win some, you lose some. Life goes on and before you know it we were starting our decent into Denpasar.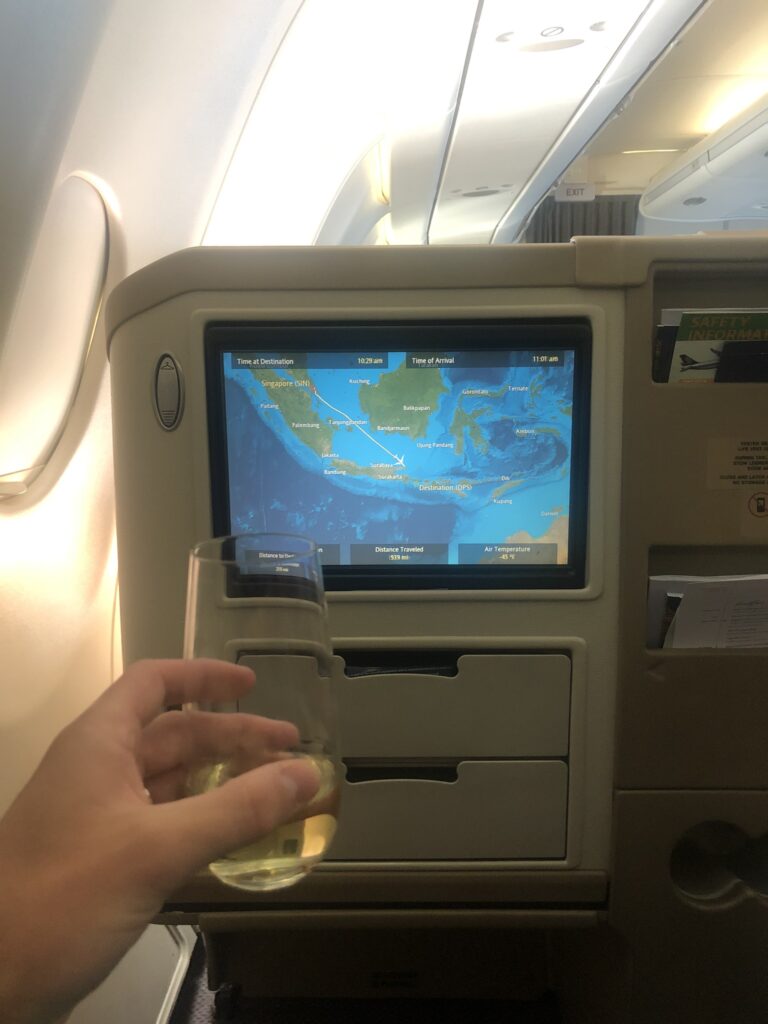 Our approach into Bali cut over the North Bali and we landed from the west.  It reminded me of landing in St. Thomas, USVI.  While the water is not quite as turquoise,  you over water all the way until the wheels touch down.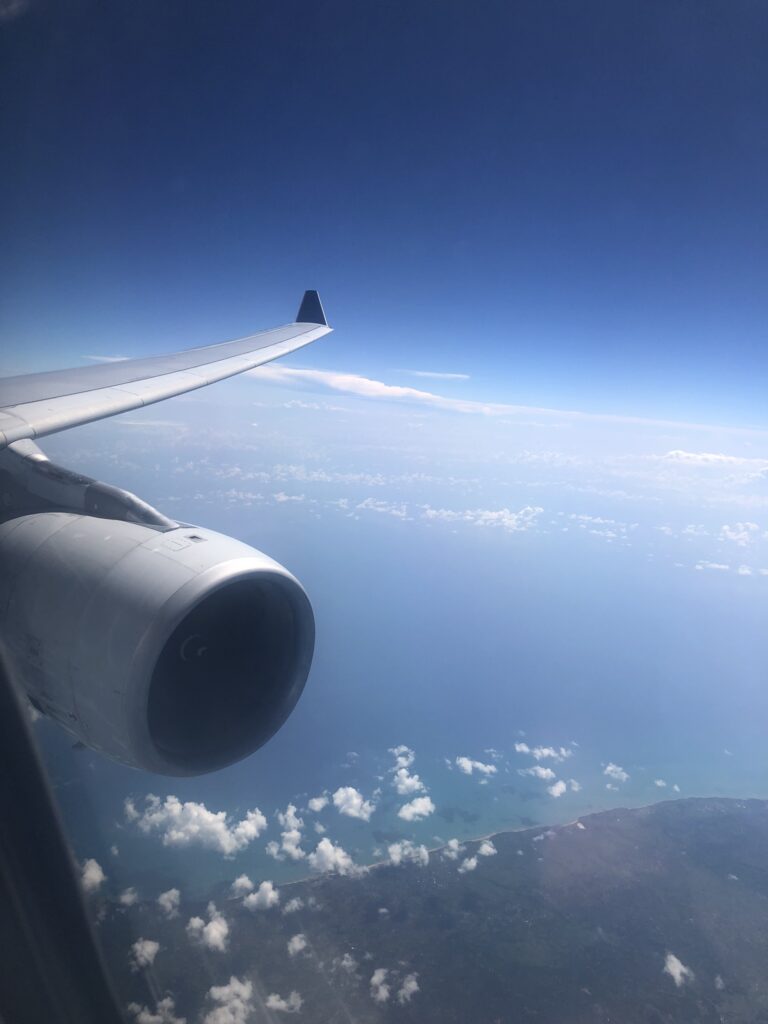 Gates at Ngurah Rai International Airport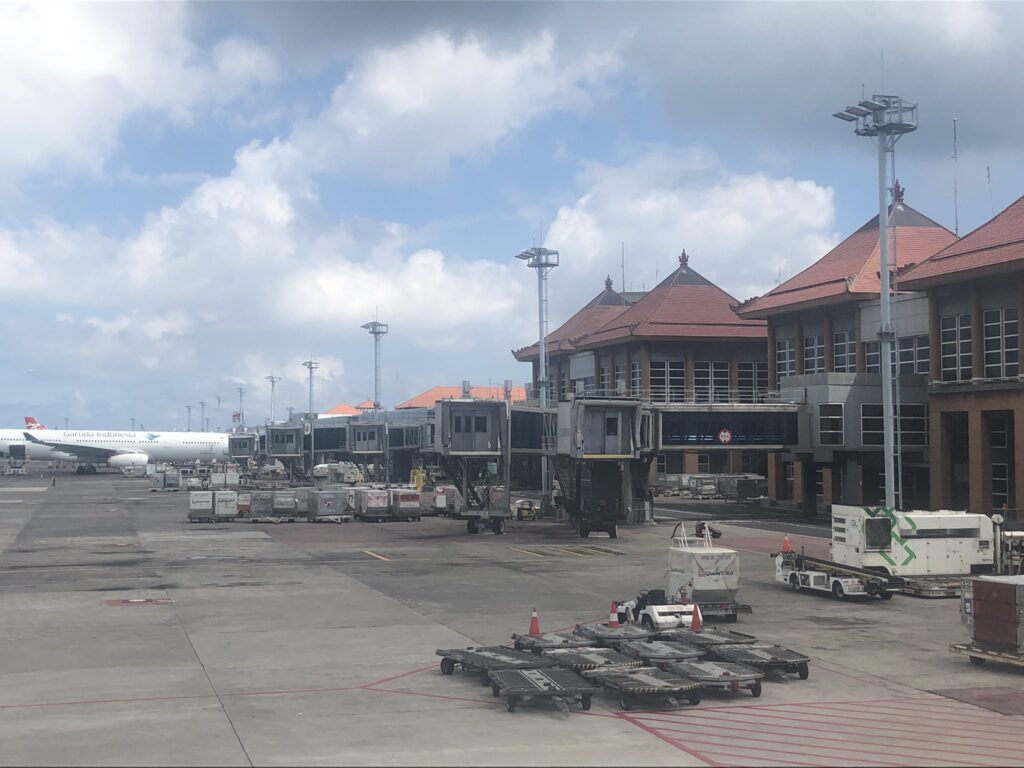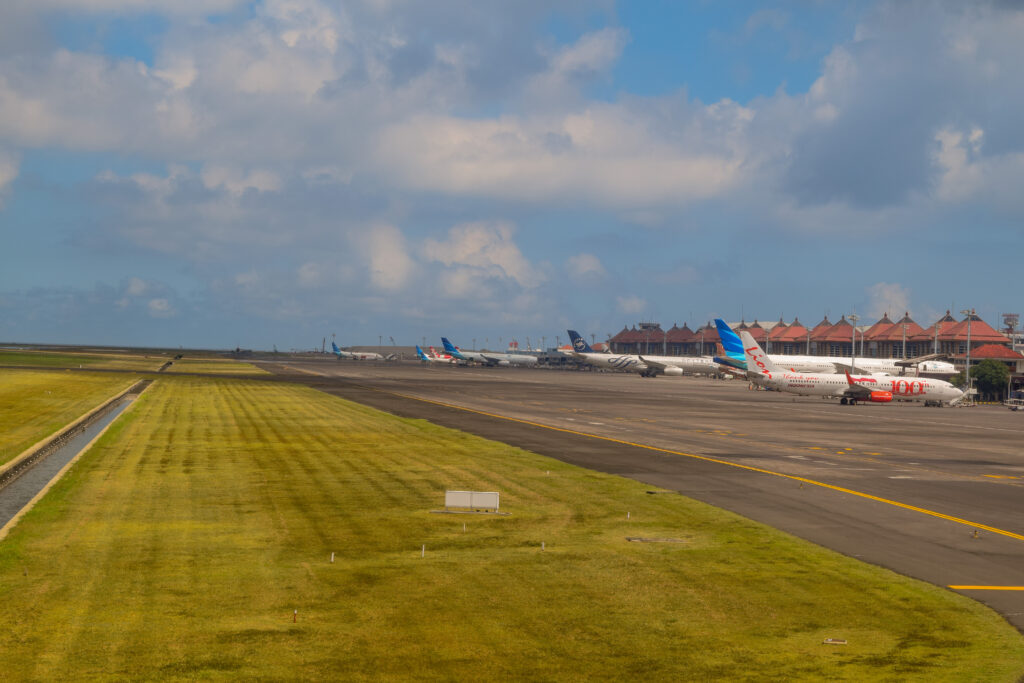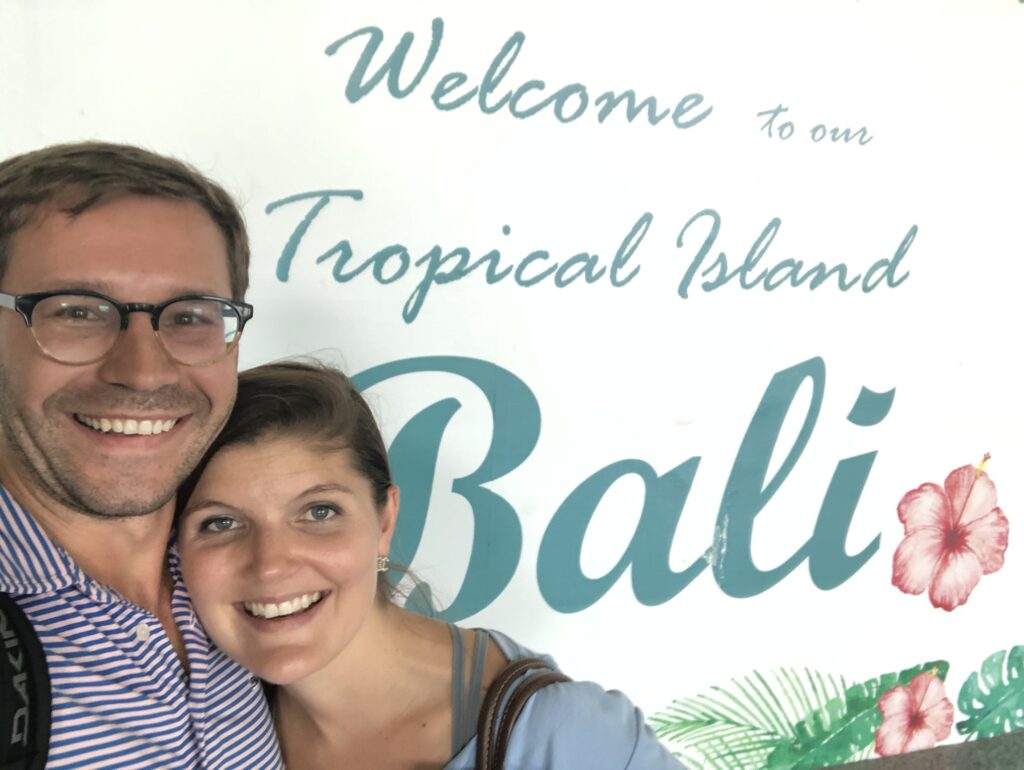 While business class was not necessary for this flight, given the length, we really enjoyed the departure lounge and comfort of the seat.  Since it was a continuation of our business class flight from New York, it did not cost us any extra either. If booking this ticket on it's own, I'd just go with economy and save the money.  I highly recommend doing a stopover in Singapore and then continuing onto your final destination if you have the flexibility.